The 2018 Dealers United Wrap-Up
A lot of growth happened this year at Dealers United: We added 22 new team members from all over the country to #TeamDU, created 56 new company-wide Slack channels, and implemented many, MANY new product features. Together we have shared lots of laughs and continued to develop some pretty amazing tech for the automotive industry. Check out our major accomplishments in this 2018 recap:
January
We warned dealers about the looming Facebook News Feed change.
OUCH! Ava got side-swiped by a car while walking across the street (she's okay!).
Delores was added to our BDC team, & Ben was hired for our Development team!
The team made a new Sales Matchback report template to help dealers easily track their Facebook ROI every month.
We fired up our drills to build our new office storage cabinets (to house our DU "Get Out!" buttons!)
The team shared a few laughs over "Dodge Ram Ram" and argued over "Do or Does?"
🖐️ Customer High-Five: Over 2,000 leads were processed in our system across all customer Lead Ad campaigns.
🖐️ Customer High-Five: Garden City Mazda and Huntington Mazda ranked in the Top 100 Mazda Dealers YoY for 2017
February
Shelor Motor Mile was featured in a Success Story published by Facebook Business.
#TeamDU was named 1 of 9 Oracle Data Cloud's Auto Elite Data Marketers!
We traveled to Facebook HQ and got a special sneak peek at a new ad format for automotive catalogues in Facebook called DAA (Dynamic Ads For Auto).
A handful of dealers were invited into a BETA program with Facebook for a new *secret* ad format.
Dev team reported nearly 2 million vehicle images and 6,000 leads processed by our technology.
The Dealers United blog was given the title of a "Top 40 Car Dealer Blogs."
🖐️ Customer High-Five: Garden State Honda matched 42 sales on their first month on our Full Suite Facebook Advertising program!

March
Our beer turned green during St. Patrick's Day team lunch.
Data Scientist, Jack, was added to our Dev team.
A handful of our VIP dealers attended our cocktail reception with heads of Facebook Automotive and Oracle Data Cloud at NADA.
Hub City Ford's success story was published by Facebook Business, marking our 3rd case study appearance on Facebook!
We explored the industry's most controversial matchup: 1st party vs. 3rd party leads.
Dev team added the first phase of call tracking to our Facebook Ad platform.
After the beta tests came back with flying colors, our product team launched our favorite Facebook ad format yet: Dynamic Lead Ads or "VIN Lead Ads."
🖐️ Customer High-Five: After implementing dynamic VIN Lead Ads, Willis Auto received 22 VIN-specific leads in their first weekend on the program!

April
We gave away 5 proven plays at Digital Dealer 24 to deploy to help dealership's tackle their biggest problems.
Internal Platform Overhaul! We migrated to a new CRM, a new accounting software, and switched marketing automation software to deliver better experiences to our dealer-customers.
Todd Citron from Hub City Ford won his Dealer 20 Groups' "Best Idea" with Dealers United's Ford-specific Facebook program.
New low funnel calls-to-action were added to dealer-partners' dynamic lead ads.
Our Creative and Facebook Team Leads attended the 2018 Facebook Auto Retail Summit in Austin, Texas.
Pete was featured by DigitalMarketer and spoke at their Certified Partner Training Day.
🖐️ Customer High-Five: Motor Mall Jacksonville received 102 VIN-specific leads in just 19 days.
May
Dealers United was announced as a Facebook Marketplace Inventory Partner!
Adam was added to our newfound Partnership Division, and Drew became a Performance Manager.
Facebook Team created Lookalike Audiences for all dealership clients' accounts to help scale their campaigns.
We initiated our first-ever luxury brand campaign strategy with a Maserati and Alfa Romeo Co-Op Approved playbook.
Dev team made huge strides in optimizing performance and upload speeds, and deployed the first release of our dealer dashboard.
Pete answered some tough questions LIVE about "What's Really Going On With Facebook?"
The Creative and Facebook Teams took charge on Instagram, integrating our existing creative into new formats like Instagram Stories.
🖐️ Customer High-Five: Lake Toyota attributed 51% of their dealership's total sales to their Facebook Ad campaigns!
June
We reached our quota-buster goal and celebrated at the bowling alley.
Eugene joined the team paved the way for our Onboarding Team, and Nathan began crafting our dealership dashboard UI.
We kicked off our official, white-labelable solution for our Partnership Division.
Pete held luxury brand webinars to show how to bring OEM awareness down through to the local dealer level.
Our first agency partner was onboarded through automation from start to finish.
A local publication, Business Observer, covered our industry's "major shift" to social.
Our 2nd State of Automotive webinar, co-hosted by Facebook and Oracle Data Cloud, taught us about Facebook's latest advertising changes.
🖐️ Customer High-Five: Oxmoor Mazda drove 65 dynamic leads for an average CPL of $7.47!
🖐️ Customer High-Five: Bob Smith Toyota drove 29 1-day retargeting leads for an average CPL of $9.88!

July
Dealers United acquired Seattle-based company, What's Next Media, and added more powerful video to our ever-growing Facebook platform.
From the Seattle team, we welcomed key players, Dan M., Andrew M., Daniel, Brian, and Dave!
Pete + Travis spoke at GIADA (Georgia Independent Auto Dealer Association).
The Creative Team was formed to focus on creating and optimizing beautiful visual graphics for dealers' Facebook Ads.
Derrek (or D2) was added to the Creative Team to begin incorporating moving graphics and videos into Facebook ad creative, like our new Birthday Service Ad Specials!
Green Ford tested (and loved!) our Hiring/Recruitment Lead Ads.
Automotive News featured Shelor Motor Mile's "reduction of about $50 in advertising costs per vehicle sold" from their Facebook ads.
We added our newest 5 Minute On-Demand Demo video to help dealers learn about our Facebook Inventory Ad + VIN Lead Ads program.
Facebook announced we were one of the fastest growing Facebook Partners.
We invited 5 of our top-performing dealer clients into a new BETA program to test a new variety of dynamic lead ads.
Creative Team built out a massive training library to track step-by-step processes for graphics and animations.
Hoselton Auto Mall matched 49 units to their ads in July, proving our full-funnel Facebook ad strategy.
🖐️ Customer High-Five: 613 Auto Group drove 27 dynamic leads in 9 days for an average CPL of $4.82.
August
Big growth month for #TeamDU! Zina and Andrew R were added to our Performance Team, Matt was added to the Creative Team, Mark joined our Partnership Division, and Daniel joined the team to master Co-Op and Quality Control for the Facebook Team.
Our Facebook and Creative teams began creating custom 2019 Special campaigns to launch our dealer-clients New Car Packages into the next year!
We learned about a new tool called "Ad Hacking" on Facebook, which gave our team (and our dealers!) a leg up on ad strategy.
@Andrew Myers and @Pete went on-air with AutoConverse regarding the benefits of the recent acquisition.
We spearheaded an all-new Volkswagen Certified Pre-Owned, co-op approved Facebook & Instagram Blueprint for VW dealers.
Facebook Team rolled out our a new powerful animated carousel ad to showcase dealership's monthly specials.
🖐️ Customer High-Five: Paramus Chevy's New Car specials landed a $0.54 Cost Per Landing Page View and Facebook Relevance Scores between 7-8.
September
Daniel and Luke simplified Co-Op to help get dealers their ad dollars back sooner.
Erik was added to our Direct Sales team, and Kevin and Tudor joined our Development team.
Eugene came out a changed man after being trapped in the office elevator.

Pete spoke at Digital Dealer 25 and gave away how to build a 12-month Facebook & Instagram strategy for instant and predictable sales.
Dev Team built a new script to help sync any dealership's inventory to Facebook, regardless of website or feed provider.
Dealers United's Facebook Inventory Ads technology was awarded the Ringling Innovation Award.
🖐️ Customer High-Five: Lithia CDJR of Bryan attributed 34 sales to their Facebook Ad campaigns.
🖐️ Customer High-Five: Lithia Toyota of Abilene matched 40 car sales to their Facebook ads.
October
The entire Team got together for Q4 Kickoff, flying in remote employees from Seattle + Minnesota + NC + Ohio to hang at the SRQ headquarters!
We ran a full-day #Hackathon to determine each team's Objectives and Key Results for the next quarter.
Our Leadership Team toured Facebook HQs in San Francisco, working closely with Facebook's Development Team on Dynamic Ads For Auto (DAA) and the Car Buyer Journey.
It's official: Dealers United introduced a new brand statement as the Facebook & Instagram advertising solution for the automotive industry.
We celebrated Halloween!

Pete MC'd Mind The Gap and State of Jobs Conference to help connect local youth to local businesses in the community.
Our Facebook Inventory Ads program began being offered in 3 different packages to fit any dealership budget.
Dealers United sponsored a table at the University of South Florida's Brunch on The Bay for the second year in a row. (Fun Fact: We have over 5 alumni's from USF college!)
We heard from Matt Welch about why he loves Dealers United's Facebook solution.
🖐️ Customer High-Five: O'Brien Toyota received 21 leads in 12 days at $3.69 CPL
🖐️ Customer High-Five: Matt Blatt rocked October with:
– Kia Egg Harbor store: 54 sales attributed to Facebook ads
– Kia Toms River store: 34 sales attributed to Facebook ads
– Mitsubishi store: 21 sales attributed to FB ads October
November
We launched a "too good to be true" (but not really!) $59 Facebook Marketplace offer to level the playing field on Facebook Marketplace.
#TeamDU was featured in SRQ Magazines article, "Social Sales Team."
We hosted DU's 1st Annual Heritage lunch, where each team member brought in a dish that represented their culture (or their excellent cooking skills).
The new dealer-customer dashboard approaches its debut date.
Creative Team finalized 2019 model line graphics for all Subaru, Toyota, Kia, Ford, and GM dealers.
Dev Team added 6,242 lines of code into our platform and cut inventory processing time in half.
We wrapped up our new #TeamDU culture videos!
Our marketing team began sending out our beloved #AutoHolidayHacks to help dealerships sell more cars over the holidays.
Ava became Blueprint Certified and FULLY Digital Marketer Certified.
Luke conducted a series of A/B tests for dealer-partners on our Inventory Ads program to ensure the lowest possible Cost Per Click (CPC).
We celebrated Thanksgiving at our SRQ headquarters with a massive potluck.
Katelyn took a 3-week vacation (just kidding!) as she battled—and officially got rid of!—a massive tumor the size of a softball!
🖐️ Customer High-Five: Driveaway Motors received over 180 Facebook retargeting leads over the last 2 months.
🖐️ Customer High-Five: Toyota of Wausau ran a "mailer lookalike" Facebook Lead Ad to their direct mail list and generated 6 leads in just over a week.
December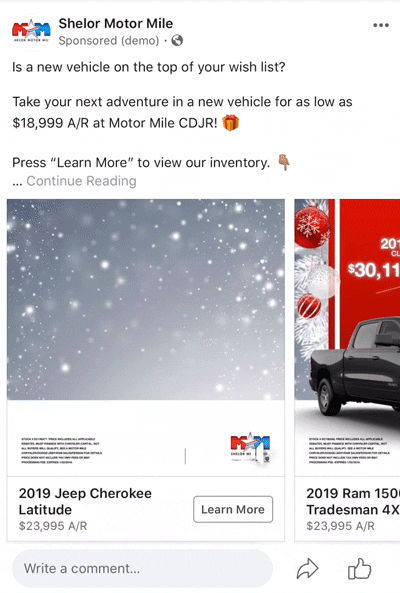 Our favorite holiday ads started running for our dealership-clients, featuring New Car specials updating with current, on-the-ground VINs.
We asked our dealers where they wanted us to invest $10,000, and a Service Department Playbook was the winner!
The Facebook team perfected a new script to help automate monthly specials with custom designed templates to speed up turnaround times for our dealer-partners.
We heard from more our dealer-partners about
Rachel was added to our BDC team!
#TeamDU sent Secret Santa gifts all across the country in celebration of the holidays / Christmahanakwanzika.
🖐️ Customer High-Five: Herrnstein Auto Group matched 13 vehicles sold to their Facebook Inventory Ad campaigns in the first 2 weeks of December.
That's A Wrap!
There you have it—our mega list of highlights from 2018!
We are so grateful for how far we've come and cannot wait to see what's next. Thank you to all of our dealers, agency partners, friends and family, and of course, every single member of #TeamDU. Happy New Year!
(Not yet part of the DU community and want to feel the love? Sign up free today! Or, if you're already a member of the family, help make us bigger by referring a friend.)
"
Your work is going to fill a large part of your life, and the only way to be truly satisifed is to do what you believe is great work. And the only way to do great work is to love what you do."
Previous Wrap-Ups:
Enjoy this article? Subscribe to our blog to receive our latest articles, tips for your dealership, and more.